PAPUA NEW GUINEA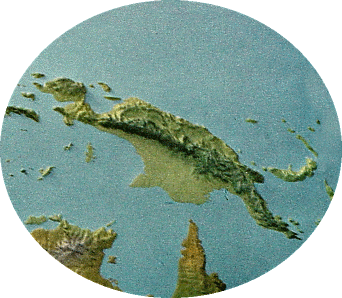 The big isle of Papua new Guinea, with its high mountains and its rain forests, is a true paradise for many beetles and, among them, many interesting and endemic Buprestidae. Many genera are common with Northern Australia (Especially Calodema and Metaxymorpha, living on the top of trees (canopy) of rain forests in PNG and Northern Queensland (few species reach New South Wales).
| | | |
| --- | --- | --- |
| Calodema plebejum * | Calodema regale blairi * | Calodema wallacei * |
| Calodema ribbei * | Calodema bifasciata * | Metaxymorpha apicalis * |
| Metaxymorpha apicerubra * | Metaxymorpha meeki | Castiarina meeki * |
But the most characteristic papuasic genus is probably Cyphogastra. It differentiated in many different species, most of them living only in Papua New Guinea. Just few species live also in Indonesia islands, like Cyphogastra timoriensis (it reachs China, Hainan Is) or C.javanica. They are particularly remarkable for their unusual morphology and bright and iridescent colours of many species. Here we can see just a very small selection of their forms. Many species are undescribed, and many other are surely unknown.
| | | |
| --- | --- | --- |
| Cyphogastra foveicollis | Cyphogastra terminata | Cyphogastra violaceiventris |
| Cyphogastra abdominalis | Cyphogastra javanica | Cyphogastra rollei |
| Cyphogastra venerea | Cyphogastra mac-farlani | Cyphogastra albertisi |
| Cyphogastra fossifrons | Cyphogastra cyanipes | Cyphogastra pisciformis |
| | |
| --- | --- |
| Other genera live in New Guinea and, with other species, in many Pacific islands (Solomon Is., Fiji, etc.): Paracupta is the most typical among these "oceanic genera" | Paracupta auricollis |
---
* Pictures of Calodema plebejum, C.regale blairi, C.wallacei, C.ribbei, C.bifasciata, Metaxymorpha apicalis, M.apicerubra by T.Sainval et T.Lander: Iconographie des especies decrites des genres Calodema et Metaxymorpha - Sciences Nat, Bulletin n° 79 et 81
- Castiarina meeki - Picture by Ulf Nylander